Quarterly Newsletter No 7 December 2022
Welcome to the November newsletter from the Scottish Biometrics Newsletter.
Since the last newsletter a lot has happened and in this newsletter I will update you on our progress.

Dr Brian Plastow
Scottish Biometrics Commissioner
To learn more about who we are and what we do please visit our website https://biometricscommissioner.scot
 Our Facebook page
The Scottish Biometrics Commissioner Facebook page is up and running with our latest news and links to articles written by the team.
Find us on Facebook  by searching 'Scottish Biometrics Commissioner'
Code of Practice & Complaints Procedure
I am pleased to confirm our Code of Practice was approved by the Scottish Parliament on 16 November 2022. This document along with our Complaints procedure is available on our website. (click here)
Our Code of Practice is a 'world first' – Scotland is the first country in the world to have a national Code of Practice that gives guidance to the police on how biometric data and technologies can be used.  The Code ensures where Police Scotland (PS), Scottish Police Authority (SPA) and Police Investigations & Review Commissioner (PIRC) acquire and retain biometric data  it is also used and destroyed where appropriate.  Through the Code I, as the Commissioner, have legal powers to require information from the aforementioned bodies to ensure compliance with the Code.  Importantly the Code serves as a framework for professional decision-making around biometrics and forensics but also delivers important human rights safeguards – which is a significant human rights achievement for Scotland.  The Code is supported by a public Complaints procedure.  This Complaints procedure means that the public can make a specific complaint to us, if Police Scotland, the Scottish Police Authority (SPA), or the Police Investigations and Review Commissioner (PIRC) hold your personal biometric data, and where you think that they are doing so in circumstances that may breach the Code of Practice produced by the Scottish Biometrics Commissioner. Both conditions should exist before we may consider your complaint.
Under section 15 of the Scottish Biometrics Commissioner Act 2020 the Commissioner is required to produce our complaints procedure.  The complaint procedure explains how and when complaints can be made to us.                                                                                             
Our website contains a form which can be used to contact us about a complaint. (Link to form)
I would like to thank the members of our Advisory Group for their input and feedback on our Code of Practice and our Complaints procedure.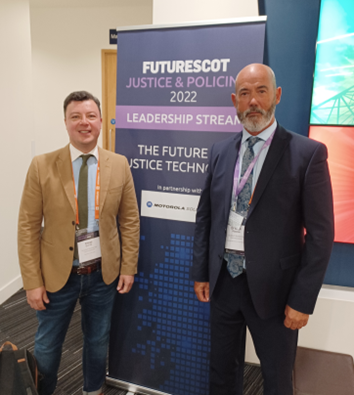 In October the Commissioner and Operations Manager attended the Future Scot Digital Justice and Policing conference at Strathclyde University in Glasgow.  Their presentation was part of the session on The Future of Justice and Technology.
During their presentation they showed our animation called What is Biometrics? Click here to view the animation.
Annual Report & Accounts 2021-22 (ARA)
I laid our first Annual Report & Accounts before the Scottish Parliament on 25 October 2022.  The report provides information on my functions in providing independent oversight of how biometric data and technologies are used for policing and criminal justice purposes in Scotland, and information on our performance and finances. 
My overall strategic conclusion from our activity during 2021 and 2022 is that the Parliament should have confidence in the ways in which biometric data and technologies are currently used for policing and criminal justice purposes in Scotland.
I've highlighted below some of my key findings:
the use of biometric data for policing and criminal justice purposes makes a valuable contribution to public safety in Scotland
there have been significant concerns about the use of biometric data in other public sector contexts in Scotland during 2021/22, but these have not extended to criminal justice or policing
the Scottish Police Authority (SPA) Forensic Services provides Police Scotland and the Police Investigations and Review Commissioner (PIRC) with one of the most advanced DNA interpretation and analysis capabilities in world policing. The additional sensitivity of DNA24 is particularly helpful in cold case reviews
Police Scotland has taken a measured approach to technologies involving 'face' and has not deployed overt live facial recognition technology in Scotland. However, there are circumstances where, with appropriate safeguards, such technologies could enhance public safety
Over the past few months I've attended a variety of meetings and delivered a range of presentations some of which I've listed below:
12 September: attended memorial service for HM Queen Elizabeth at St Giles Cathedral and a commemorative event afterwards attended by King Charles at the Scottish Parliament
29 September: Attended UK FIND Strategy Board in London
13 October: Spoke at FutureScot Conference Glasgow
21 October: Meeting with ACC Freeburn at Police Scotland HQ
16 November: Interview with Sunday Post re Code of Practice Sunday Post Article
17 November: Speaking engagement on Digital Forensics at Dundee University
21 November: Meeting with Greenwich University on facial recognition
Our Operations Manager has also been busy over the past few months, please see further details below:
21 September: Deliver CRIPS Annual Lecture at the University of Stirling
23 September met Communications and Engagement Specialist of SPA Forensic Services to discuss SBC role and Code of Practice.
13 October: Spoke at FutureScot Conference Glasgow
December: Visited Glasgow and Edinburgh Custody Police stations as part of the children's biometric review.
For further reading please visit our website: https://www.biometricscommissioner.scot/
There are many other reference sources available to assist readers in engaging with debates on biometric data and technologies more generally. We do not endorse materials on other websites but simply signpost the following short selection as sources of additional information:
I hope that this short newsletter is of interest. You can subscribe to future newsletters and annual reports automatically by registering on our website: https://www.biometricscommissioner.scot/contact/