Newsletter No 8 - June 2023

Welcome to the June 2023 newsletter for the Scottish Biometrics Commissioner
Since our last newsletter I have been busy promoting the Code of Practice which was published back in November. 
My team have also been busy producing our Joint Assurance Reviews.
Dr Brian Plastow
Scottish Biometrics Commissioner

To learn more about who we are and what we do please visit our website https://biometricscommissioner.scot
The Scottish Biometrics Commissioner Facebook page is up and running with our latest news and links to articles written by the team
Find us on Facebook  by searching 'Scottish Biometrics Commissioner'
Joint Assurance Reviews
In the last quarter of 2022/23 (February) the SBC in conjunction with the Scottish Police Authority produced two Joint Assurance Reviews – Vulnerable Adults and Children & Young People.
A link to the reports can be found by clicking on the images above.
Between the reports four recommendations were identified. They can be found on pages nineteen to twenty one of the Vulnerable Adults report and on page six of the Children & Young People's report.  
As part of the Children & Young People's report we commissioned the Children and Young People's Centre for Justice to provide insights from children who have experience of the criminal justice system. They ran focus groups and interviews to gain their thoughts of the current system of taking biometrics. Their report can be found here.
Strategic Planning Day and Insights Workshop
In May we held our strategic planning day to discuss our priorities for the year ahead.
 Discussions included:
Content for our Section 31 and 32 reports
Our comms and engagement strategy
Laws of Retention and Image reviews
Amendments to our Strategic Risk Register
Compliance assessments which will be issued in the second half of 2023
 As part of our commitment to staff engagement we invited Jaclyn from HR Staple to hold a session with the team on Insights.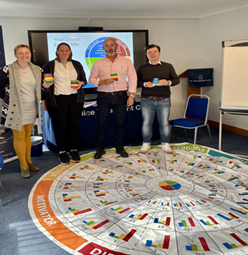 The insights workshop highlighted our communication styles to help us work better as a team. 
Scottish Biometrics Commissioner and Team visit Brussels
Recently the Commissioner and his team travelled to Brussels.
During the trip we visited Scotland House where we were welcomed by John Doyle and his team.
Whilst in Brussels we also visited the French Permanent Residence where an open invite was extended for further knowledge sharing in France.  
Further meetings were held with the UK Mission, the National Institute of Criminalistics and Criminology, European Digital Rights (EDRi) and Brussels Police at their Headquarters.
Throughout our meetings we were able to promote our Code of Practice and policy framework.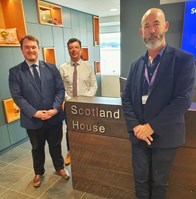 From L- R
                                                         John Doyle - Acting Head, International Corporation Unit
                                                         Diego Quirox - SBC Operations Manager
                                                         Brian Plastow - SBC Commissioner 
Out and About
Over the past few months I've attended a variety of meetings and delivered a range of presentations some of which I've listed below:
13 December: Meeting at the Leverhulme Research Centre for Forensic Science
10 January: Meeting with Motorola
25 January: Meeting and interview with SPRITE +. View the full interview here
24 February: Meeting with Hikvision
24 March: Criminal Justice Board meeting
29 March: FINDS Strategy Board meeting
Our Operations Manager has also been busy over the past few months, please see further details below:
14 March: SG Digital Identity – Expert Group Meeting
23 March: CRISP roundtable
28-29 March: Scottish AI conference
For further reading please visit our website: https://www.biometricscommissioner.scot/
There are many other reference sources available to assist readers in engaging with debates on biometric data and technologies more generally. We do not endorse materials on other websites but simply signpost the following short selection as sources of additional information:
I hope that this short newsletter is of interest. You can subscribe to future newsletters and annual reports automatically by registering on our website: